Rehabilitation Innovation Centre
The Rehabilitation Innovation Centre, led by Prof Denise Taylor, comprises a multi-disciplinary team of physiotherapists, bioengineers, and computational neuroscientists. Research is embedded in clinical practice and focuses on the development and implementation of innovative health technologies, measurement tools, and interventions to improve health outcomes for people with neuropathology across their life span.
Recent research includes the development of a brain-computer interface to enhance recovery post-stroke, telerehabilitation to prompt physical activity and support rehabilitation post-stroke, a novel intervention to reduce falls in people in residential care, understanding cerebellar adaptations to motor learning, and the use of wearable sensors to detect upper limb movement and free-living gait & activity.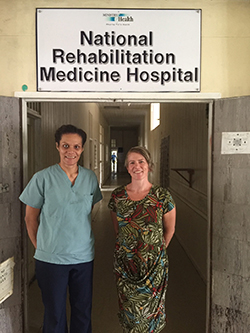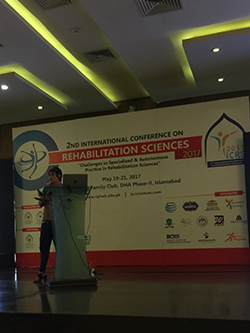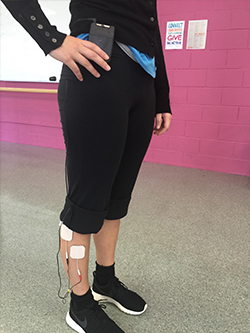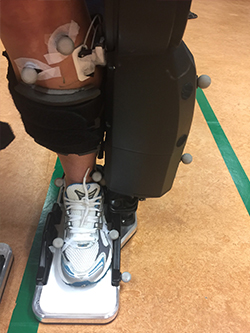 We also work closely with the Person Centred Rehabilitation team led by A/P Nicola Kayes on studies that utilise psychological and behavioural approaches to support ongoing engagment in rehabilitation. We use a variety of research methodologies and welcome collaboration with others interested in these areas. We have links with a variety of health providers, funders and researchers which helps us to maintain a strong clinical focus and operating with these links we aim to implement high level evidence-based practice.
Research collaborations and affiliations extend to MedTech Core, Brain Research New Zealand, Eisdell Moore Centre for Hearing and Balance Research, University of Auckland, New Zealand Dizziness and Balance Centre, New Zealand College of Chiropractic, the National Institute for Stroke and Applied Neurosciences (NISAN), Knowledge Engineering Discovery Research Institute, Rehabilitation Innovation Centre, AUT, University of Auckland, Otago University, Southampton University UK, Newcastle University, UK, Aalborg University, Denmark.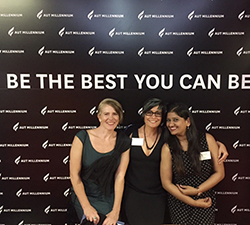 Staff members
Contact
Denise Taylor
+64 9 921 9680
Nada Signal
+64 9 219999 x6763 or +64 219 29144
Nicola Saywell
+64 9 219502
Sue Lord
+64 21 106 3172
Recent Publications (see individual profiles for further publications)
Alder, G., Signal, N., Olsen, S., Taylor, D (2019). A systematic review of paired associative stimulation (PAS) to modulate lower limb corticomotor excitability: Implications for stimulation parameter selection and experimental design. Frontiers in Neuroscience. 13 doi: 10.3389/fnins.2019.00895
McLaren R, Signal N, Lord S, Taylor S, Henderson J, Taylor D (2019) The volume and timing of upper limb movement in acute stroke rehabilitation: still room for improvement. Disabil &Rehab Apr 5:1-6.
doi: 10.1080/09638288.2019.1590471
Rashid, U., Niazi, I. K., Jochumsen, M., Krol, L. R., Signal, N., & Taylor, D. (2019). Automated labelling of Movement-Related Cortical Potentials using Segmented Regression. IEEE Transactions on Neural Systems and Rehabilitation Engineering, doi: 10.1109/TNSRE.2019.2913880
Rashid, U., Niazi, I. K., Signal, N., Farina, D., & Taylor, D. (2019). Optimal Automatic Detection of Muscle Activation Intervals. Journal of Electromyography and Kinesiology, doi: 10.1016/j.jelekin.2019.06.010
Rashid, U., Kumari, N., Taylor, D., David, T., & Signal, N. (2019). Gait event anomaly detection and correction during a split-belt treadmill task. IEEE Access, doi: 10.1109/ACCESS.2019.2918559
Jochumsen, M., Navid, M. S., Nedergaard, R. W., Signal, N., Rashid, U., Hassan, A., … Niazi, I. K. (2019). Self-Paced Online vs. Cue-Based Offline Brain–Computer Interfaces for Inducing Neural Plasticity. Brain Sciences, 9(6), 127. https://doi.org/10.3390/brainsci9060127
Jochumsen, M., Navid, M. S., Rashid, U., Haavik, H., & Niazi, I. K. (2019). EMG-versus EEG-Triggered Electrical Stimulation for Inducing Corticospinal Plasticity. IEEE Transactions on Neural Systems and Rehabilitation Engineering, 1–1. https://doi.org/10.1109/TNSRE.2019.2932104
Lirani-Silva E, Lord S, Moat D, Rochester L, Morris R (2019) Auditory cueing for gait impairment in persons with Parkinson disease: A pilot study of changes in response with disease progression. J Neurol Phys Ther Jan; 43 (1): 50 – 55 doi: 10.1097/NPT.0000000000000250
Lord S, Isbey O, Rochester L, Del Din S, Taylor L (2018) Discerning the contribution of balance and mobility to ambulatory activity in community-dwelling octogenarians: A preliminary report. NZJP 46 (3) 133-38
Alcock L, Galna B, Perkins R, Lord S, Rochester L (2018) Step length determines minimum toe clearance in older adults and people with Parkinson's disease J Biomech Apr 11: 71:30-36 doi: 10.1016/j.jbiomech.2017.12.002
Stuart S, Lord S, Galna B, Rochester L (2018) Saccade frequency response to visual cues during gait in Parkinson's disease: the selective role of attention European J Neuroscience 47 (7): 769-78 doi: 10.1111/ejn.13864
Alcock L, Galna B, Hausdorff JM, Lord S, Rochester L (2018) Gait adaptations in response to obstacle type in fallers with Parkinson's disease Gait & Posture Special Issue: 61, 368-74 doi: 10.1016/j.gaitpost.2018.01.030
Rashid, U., Niazi, I., Signal, N., & Taylor, D. (2018). An EEG experimental study evaluating the performance of Texas instruments ads1299. Sensors, 18(11), 3721, doi: 10.3390/s18113721
Rashid, U., Signal, N., Niazi, I. K., & Taylor, D. (2018, October). footPress: An Open-Source MATLAB Toolbox for Analysis of Pedobarography Data. In International Conference on NeuroRehabilitation (pp. 361-364). Springer, Cham, doi: 10.1007/978-3-030-01845-0_72