Musculoskeletal Injuries & Exercise
OVERVIEW
Active Research Projects | Research and Presentations | Contacts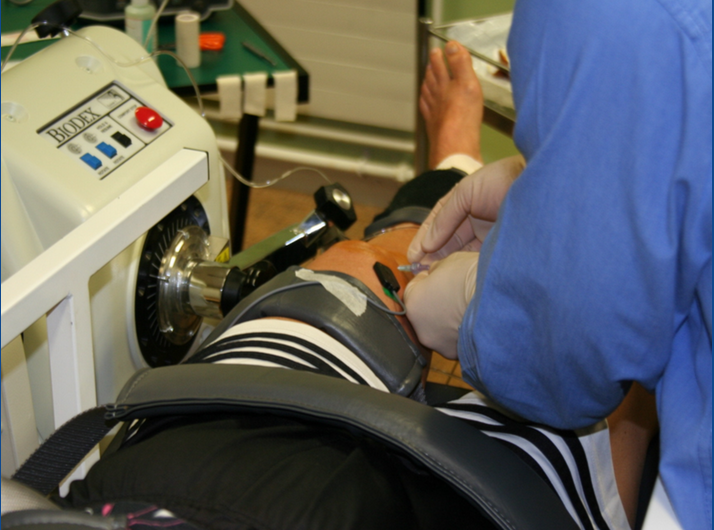 The Researchers in this area are led by Dr Peter McNair, Professor of Physiotherapy. The focus of their work is the effects of exercise and fitness on physical task performance related to activities of daily living, work and sports, particularly in patients with musculoskeletal disorders.
Muscle performance is a key element to undertaking work and recreational activities safely and effectively. Specific deficits in muscle performance can be seen after many injuries, and there is a need to address why these patterns emerge, with a view that understanding the mechanisms can lead to more appropriate and cost effective treatments being developed. A number of studies are examining these mechanisms in injured knee and ankle joints.
Decreased fitness (strength, endurance and flexibility) is commonly associated with many injuries. Levels of fitness should be addressed to ensure that when people return to work and sport, they are able to cope with the physical demands placed upon them. Without appropriate rehabilitation, that includes assessment of fitness the likelihood of injury recurring is increased. Studies in this area are exploring the suitability of both general and specific training regimes for various injuries.
In respect to assessing improvements in function after injury, research is examining the development of appropriate outcome measures and physical performance tests that can be undertaken easily in clinical practice. Such assessments will be valuable and relevant to clinicians, particularly those involved in activity based rehabilitation programs. To date, work in this area has focused upon lower limb injuries.
The above mentioned research areas have not been confined to musculoskeletal injuries but have also encompassed the elderly, and those people who have additional problems such as osteoarthritis. Such co-morbidities may increase the risk of injury, for example by falling. Hence focused exercise programs may provide a foil to the additional risks that they pose.
The research mentioned above links well with that of Professor Kathryn McPherson's team who are examining the psychological and social elements that affect peoples ability to undertake exercise in their rehabilitation. It also links with research being undertaken by Dr Denise Taylor which is examining specific programs for reducing falls in the elderly.
CURRENT RESEARCH THEMES
Exercise therapy after injury
Identifying patterns of muscle performance deficits after specific injuries
Examining physiological mechanisms associated with patterns of lost strength and flexibility
Finding appropriate outcome measures for assessing tasks performed in work and sport after injury
Measuring fitness in individuals following injury
Establishing new exercise regimes for lower limb injuries and chronic conditions.
Matching exercise programs to tasks patients undertake in work and sport
Our Aims
To advance knowledge related to the use of exercise in rehabilitation.
To identify appropriate outcome measures and tests for clinicians to assess the effectiveness of their rehabilitation programs.
To understand the mechanisms associated with strength, endurance and flexibility deficits following injuries.
To develop more efficacious rehabilitation programs for people with injuries and arthritic conditions.
ACTIVE RESEARCH PROJECTS
Pain, joint instability and degeneration

Strength and detraining
Qualitative perception related to training
Fatigue in quadriceps muscles (prediction)
Force appreciation in quadriceps
Voluntary activation patterns in quadriceps
Effects of pain and inflamation on quadriceps muscle activation
Effects of icing and corticosteroid on chronic arthritic knees
Changes in muscle extensibility: acute and chronic
MRI and loading in osteoarthritic and ACL deficient knee joints
Adherence to exercising
Diagnostic tests at the shoulder and hip joint

Reliability of clinical tests
Prediction of diagnosis from clinical tests
Outcome measures

Continued validation of Lower Limb Task Questionnaire
Viscoelasticity

Stretching parameters
Technical aspects related to stretching (curve fitting parameters)
Measuring stiffness when muscle is active.
Muscle length changes in stroke at the calf
Creep
Neuro conditions

Muscle and joint patterns during gait in children with cerebral palsy
Cardiovascular fitness in clinical populations

Exercise testing pre-surgery
Musculoskeletal ultrasound

Diagnosis of muscle and tendon injuries