Neurological Rehabilitation
The Neuro Rehabilitation Research Group (NRRG), led by Prof Denise Taylor, is multi-disciplinary team comprising physiotherapists, bioengineers, and computational neuroscientists. Research is embedded in clinical practice and focuses on the development and implementation of innovative health technologies, measurement tools, and interventions to improve health outcomes for people with neuropathology across their life span.
Recent research includes the development of a brain-computer interface to enhance recovery post-stroke, telerehabilitation to prompt physical activity and support rehabilitation post-stroke, a novel intervention to reduce falls in people in residential care, understanding cerebellar adaptations to motor learning, and the use of wearable sensors to detect upper limb movement and free-living gait & activity.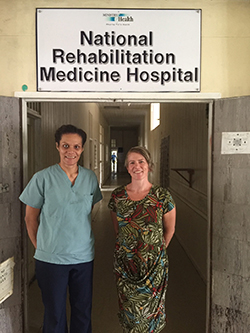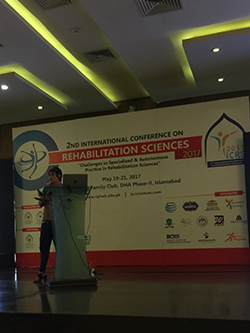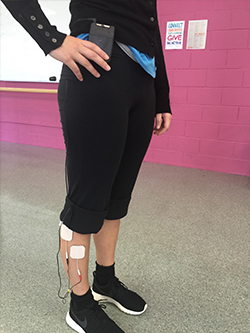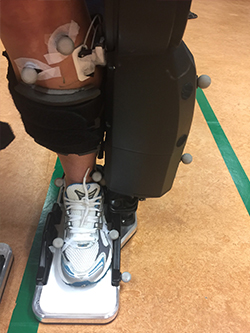 We also work closely with the Person Centred Rehabilitation team led by A/P Nicola Kayes on studies that utilise psychological and behavioural approaches to support ongoing engagment in rehabilitation. We use a variety of research methodologies and welcome collaboration with others interested in these areas. We have links with a variety of health providers, funders and researchers which helps us to maintain a strong clinical focus and operating with these links we aim to implement high level evidence-based practice.
Research collaborations and affiliations extend to MedTech Core, Brain Research New Zealand, Eisdell Moore Centre for Hearing and Balance Research, University of Auckland, New Zealand Dizziness and Balance Centre, New Zealand College of Chiropractic, the National Institute for Stroke and Applied Neurosciences (NISAN), Knowledge Engineering Discovery Research Institute, Rehabilitation Innovation Centre, AUT, University of Auckland, Otago University, Southampton University UK, Newcastle University, UK, Aalborg University, Denmark.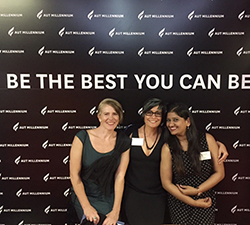 Contact
Denise Taylor
+64 9 921 9680
Nada Signal
+64 9 219999 x6763 or +64 219 29144
Nicola Saywell
+64 9 219502
Sue Lord
+64 21 106 3172
Recent Publications (see individual profiles for further publications)
Sharon Olsen, Nada Signal, Imran Khan Niazi, Thomas Momme Christensen, Mads Jochumsen, Denise Taylor.
Paired associative stimulation delivered by pairing movement-related cortical potentials with peripheral electrical stimulation: An investigation of the duration of neuromodulatory effects.
Journal of Neuromodulation: Technology at the Neural Interfaces. 2017 Jun 5:
Classification of hand grasp kinetics and types using movement- 2 related cortical potentials and EEG rhythms
Computational Intelligence and Neuroscience Volume 2017 Article ID 7470864
Effect of subject training on a movement-related cortical potential-based brain-computer interface
Biomedical Signal Processing and Control 41, Mar 2018, 63-68
Quantification of Movement-Related EEG Correlates Associated with Motor Training: A Study on Movement-Related Cortical Potentials and Sensorimotor Rhythms
Front Hum Neurosci. 2017; 11: 604.
Christina Dixon,Tui Knight, Liz Binns Belinda Ihaka, Daniel O'Brien
Clinical measures of balance in people with type two diabetes: A systematic literature review
Gait Posture. 2017 Oct;58:325-332
Serpil Cecen,Imran Khan Niazi,Rasmus Wiberg Nedergaard, Alice Elizabeth Cade,Kathryn Allen,Kelly Holt,Heidi Haavik,Kemnal S. Turker
Posture modulates the sensitivity of the H-reflex.
Exp Brain Res. 2018 Mar;236(3):829-835.
Sam Stuart, Sue Lord, Brook Galna, Lynn Rochester
Saccade frequency response to visual cues during gait in Parkinson's disease: the selective role of attention
Eur J Neurosci. 2018 Apr;47(7):769-778
Lisa Alcock, Brook Galna, Jeff Hausdorff, Sue Lord, Lynn Rochester
Gait adaptations in response to obstacle type in fallers with Parkinson's disease
Gait Posture. 2018 Mar;61:368-374.
Sarah Moore, Aodhan Hickey, Sue Lord, Silvia del-Dinn, Alan Godfrey, Lynn Rochester
Comprehensive measurement of habitual physical activity and spatio-temporal stroke gait characteristics with a single accelerometer in the clinic and community. A feasibility, validity and reliability study
J Neuroeng Rehabil. 2017; 14: 130.
Sue Lord
Improving real-world walking habits after stroke requires behavioural change techniques, not just exercise and gait training [Commentary]
Journal of Physiotherapy October 2017: 63, 4, Page 259
Sue Lord, Brook Galna, Rosie Morris, Alison Yarnall, David Burn, Lynn Rochester
Natural history of falls in an incident cohort of Parkinson's disease: early evolution, risk and protective features
J Neurol. 2017 Nov;264(11):2268-2276.
Alfonso Fasano, Colleen Canning, Jeff Hausdorff, Sue Lord, Lynn Rochester
Falls in PD: A complex & evolving picture
Mov Disord. 2017 Nov;32(11):1524-1536
Lynne Taylor, Ngaire Kerse, Jochen Klenk, Robert Borotkanics, Ralph Maddison.
Exergames to Improve the Mobility of Long-Term Care Residents: A Cluster Randomized Controlled Trial.
Games for Health Journal, 2018 7(1), 37-42.
Denise Taylor Liz Binns, Nada Signal
Upping the ante: working harder to address physical inactivity in older adults.
Curr Opin Psychiatry. 2017 Sep;30(5):352-357
Verna Stavric, Suzie Mudge, Louise Robinson, Michela Rewa
What are the outcomes and views of people with mobility limitations after participating in a community circuit group?
New Zealand Journal of Physiotherapy 2017 45(3): 119-125.
P Friary, J Tolich, J Morga,J Stewart, H Gaeta, B Flood, S McNaughton
Navigating interprofessional spaces: Experiences of clients living with Parkinson's disease, students and clinical educators.
Journal of Interprofessional Care, 2018 32, (3), 304-312
Birch, N., Graham, J., Priestley, T., Heywood, C., Sakel, M., Gall, A., . . . Signal, N.
Results of the first interim analysis of the RAPPER II trial in patients with spinal cord injury: Ambulation and functional exercise programs in the REX powered walking aid.
Journal of NeuroEngineering and Rehabilitation, 2017 14:60